WANT TO SERVE THE LORD IN TANZANIA?
COME TO TANZANIA WITH US FOR A COUPLE MONTHS ON OUR SEASON OF SERVICE INTERSHIP!
Ministering healing in local hospitals
Ministering love in orphanages
Preaching the Gospel in many schools (there's no separation of church and state in Tanzania)
Preaching and ministering in open-air crusade style meetings
Be conference speakers at many different seminars hosted by Masai pastors, Lutherans, and Pentecostal denominations
Ministering in various Lutheran, Anglican, and Pentecostal churches on Sunday mornings.
Heal the sick, cast out devils, and partner with Holy Spirit to see the Kingdom of God come to earth.
Travel, see, and experience life with amazing people in various tribal groups in Tanzania.
None of this includes the life experiences of immersing oneself in the Tanzanian culture amongst the Tanzanian people!
If you are a ministry school leader, please consider sending your students to Tanzania on a two-month missions practicum with us.  If you are interested in a KASHABBA TRIBE MINISTRIES INTERNSHIP program for your students, please email us at:  Info@kashabbatribe.com.  The best time frame for hosting potential students is March-April of each year.  However, we are open to a more specialized program if one is necessary.  We discuss with the school leaders the goals, discuss the objectives, plan the time frame, coordinate the ministry, and provide an opportunity for future missionaries and ministers to experience Kingdom ministry in a third world setting.  This is truly a unique, world-changing opportunity!  Inquire today.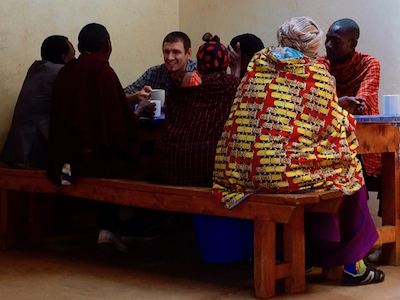 Kashabba Tribe Ministries desires to see those who are called by God to the foreign mission field as well as full-time vocational ministry have an opportunity for practical ministry experience.  We are creating partnerships with schools of ministry and ministry training programs in order to benefit those students with an amazing, longer term, practical ministry experience.  It's one thing to come to Tanzania on one of our two week ministry trips; it's a whole 'nother experience to come for two months and experience the day-to-day aspects of living in Africa combined with full-time ministry.
These Season of Service Internships (schedule below) will help to give students/graduates an idea of what is like living in a foreign mission field and what day-to-day ministry opportunities exist for those who say YES to the call of God on their lives.  In recent years, we have had the privilege of hosting ministry school students for two months.  They have experienced the following (actual photos of the times below):
Our desire is too see as many followers of Jesus have their hearts ignited and faith emboldened by experiencing the Presence of God and watching the Kingdom of God manifest in front of their own eyes underneath their own hands.  If you are looking for more in your walk with the Lord, if you are desiring to have your experience match your theology, or if just want to live the book of Acts, these internships are for you!
Come to Tanzania with us, experience the love and power of God, and leave more equipped for a life of full-time ministry and missionary adventure!  Come and never be the same again!  But don't take our word for it, take the word of a couple people who has been here with us.
Testimonies
"Anyone who has a heart to preach and teach the Kingdom of God, see the sick healed, the demonized set free, and the broken restored will have plently of opportunity to do so under Kashabba Tribe Ministries. Peter and Rebekah demonstrate love to people who aren't going to hear it from anyone else. There are so many people in Tanzania hungry to hear the GOOD News of Jesus Christ, and Peter eminates that message. Peter preaches the Government of Heaven to so many who have only ever heard that the Kingdom of Heaven can only ever be like the systems of this world (corrupt and broken). Rebekah's heart reflects intimacy with Jesus, as expressed through her music. I won't soon forget the awesome hospitality of Peter and Rebekah as they hosted me on my first trip to Africa. I have thoroughly enjoyed the two months I spent in Tanzania with KTM. I can say from experience that if you go to Tanzania, you will have the privilege of seeing God be who he says He is. We had so many opportunities to stretch ourselves being Jesus to people, whether through preaching or teaching, or simply giving someone a hug. I recognize KTM as a ministry that is after the Father's heart to see peoples' lives transformed into perfect love, perfect forgiveness, and perfect light. If you're thinking about taking a trip to Tanzania, you should just do it. Be a part of the great fire God is lighting in this beautiful nation through KTM."

- Andrea A., GSSM Practicum 2012
"My time in Tanzania changed my perceptions of the world, especially in regards to Africa. I got to really see how people live and be involved in their lives. I got to be a part of God's ministry in this nation. I not only saw His hand at work, but was a part of His hand. I also had opportunities to see the land and animals unique to East Africa. I'll never forget the first time I saw a zebra! I traveled to several small towns and villages where I got to see different styles of life and operate in various kinds of ministry. Whether it was preaching, praying/healing, deliverance ministry, or just volunteer work like painting; every activity I got to take part in brought me closer to God personally, and showed His great love for every person and every nation. This trip presented the best summer of my life."

- Hannah L., KTM Summer Internship 2012
If you would like more information about our KTM Internships to Tanzania, please contact us at Info@kashabbatribe.com.  If you would like to download an application for our 2017 KTM Summer Season of Service Internship, please click on the like below:
Season of Service Schedule

Cost:

March 2017 – GSSM Missions Practicum

TBD

June – August 2017 – KTM Season of Service Internship

$2,300